Neuflo hygienic butterfly valves are distinctly compact designed and manufactured to perform reliably in difficult production environments assuring complete safety. Neuflo valves are meticulously made in India, using the finest raw materials available. These valves feature specially designed integrated mounting holes for bracketing to precision align optional pneumatic actuators. All valve bodies are precision CNC machined from high quality stainless steel and feature an I.D. finish of less than 0.6mm Ra. Allen bolts on the body are cross threaded which ensure a tight sealing, withstanding the process fluid line vibrations.


NEUFLO INA SERIES HYGIENIC BUTTERFLY VALVES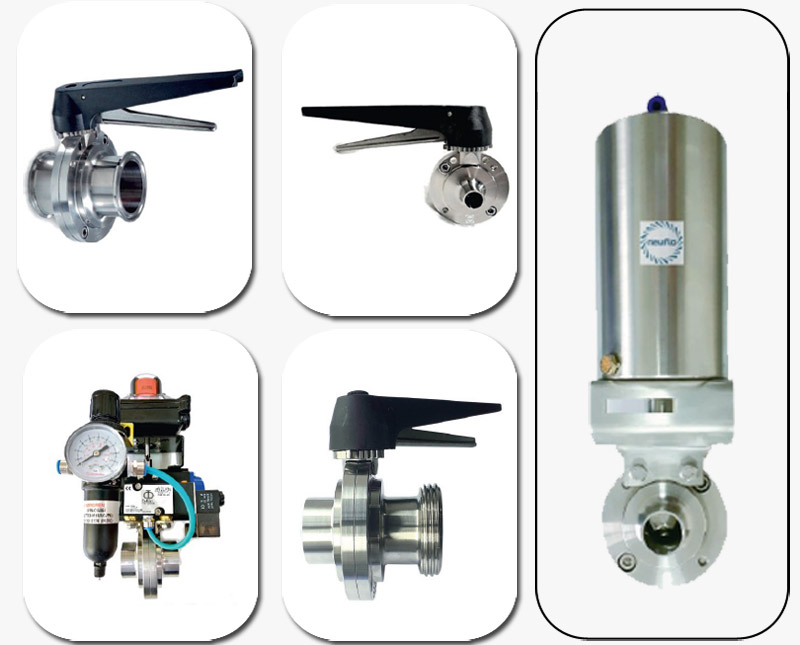 Features
• Available in SMS/ISO/BS/INCH/DIN.
• Optional end connections (weld/male/clamp).
• One-piece disc and stem assembly.
• Fully machined 304U316L stainless steel body.
• Bi-directional capability.
• Fully hygienic design with auto option.
• Isolation or regulation control. 1 High flow coefficient (Cv).
• Various food grade seat material options.
• Multi position handle assembly.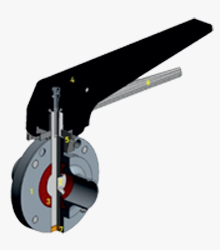 Technical Specifications
1. Valve Body - forged 304U316L stainless steel, CNC precision machined finish - Ra <0.6prn.
2. Disc - forged 316L CNC machined, 12x8 mm capsule headed stem, Mirror Polish Finish - Ra <0.4pm.
3. Gasket Seats - Silicone, EPDM, FKM, PTFE (FDA approved elastomers).
4. Handle- High impact Nylon/SS 12 position gripper handle with in-built SS insert.
5. SS Notch plate &
6. SS Grip Lever
7. Elastomer Tail Bush.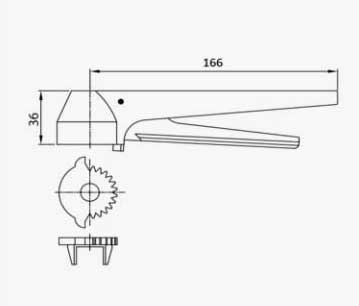 Neuflo Hygienic Butterfly Valves - INA Series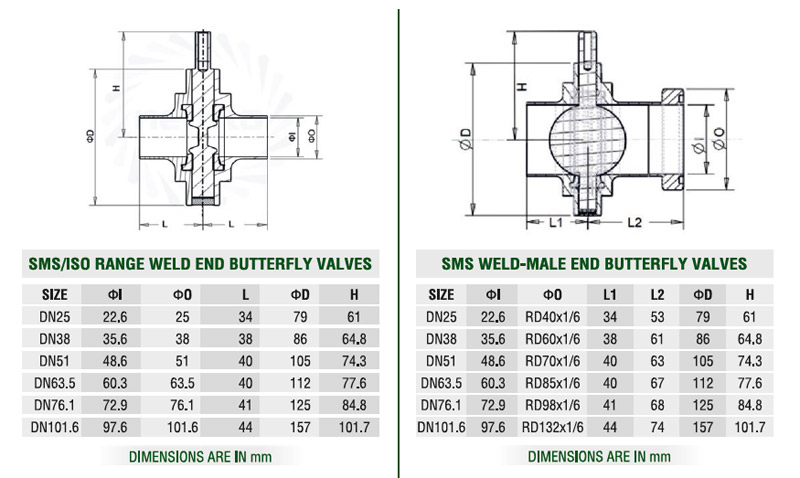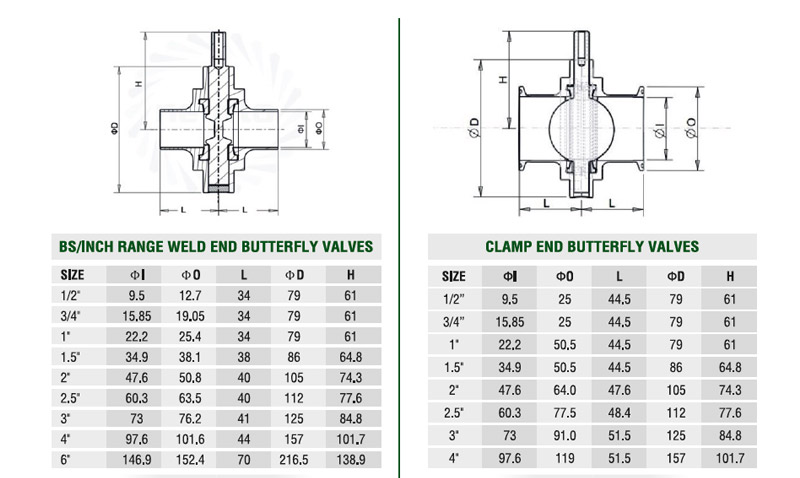 ------------------------------------

Features
• The injection needles are not required.
• No septoms are required after sterilization Ra<0.6µm.
• No puncturing required for innoculam Ra<0.4µm.
• Easy to operates.
• Directly mounted on std DIN 19mm fermenter port.
• Dosing of acid /alkali/ antifom canbe done in situ sterilisable.
• Nutrients can be added directly from this port.
• Designed in SS316L as MOC.
• Elastomer '0' rings are food grade silicon.
• Finish 0.4 Ra Electropolished

Technical Specifications
• Model:SMB-SPMV-01
• Mounting:19mm port with SS sleeve
• MOC:SS316L
• Internal Finish: E/P 0.4 Ra / External Finish : Polished satin finish
• 0 rings:food grade silicon
• Max temp:160 Deg C
• Max Pressure :10 Bar
• Inlet / Outlet Port :Single 6MM Hose Nipple Sutiable to fix silicon tubing

Part List
• Hose nipple inlet / outlet
• Valve open / close knurled Nut
• Valve fitment Threaded Nut 19 mm
• Valve plunger open / close connection
• Silicon 'o' rings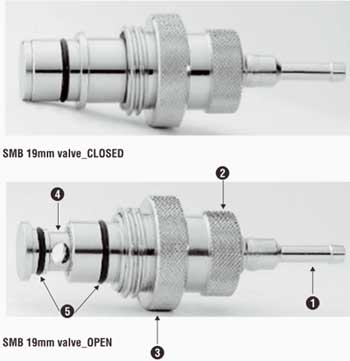 SMB X-FLOW POWDER SAMPLING VALVES
SMB X-Flow powder sampling valves are designed to extract powder/granular forms of samples from tanks, reactors or piplines in a complete hygienic way that is non clogging and cleanable

Seals
• Available in silicon, EPDM.

Technical Specifications
• Model :SMB-X flow
• Mounting : 50.8mm OD TC end.
• MOC : SS316L
• Operation : Manually by handle 180 deg turn to open / close
• Inlet Powder Scoop Volume :6 cm3
• Oulet connection :25.4 mm TC end
• Plunger Dia. and Length : Dia 35.7mm( Length 67.5mm in open position & 134 mm in close)
• Max Operating Temp : 160 Deg C
• Working Pressure : 6 Bar(g)
• Internal Surface Finish : 0.4 Ra electropolished
• External Finish : Satin/Glossy
• Cleaning : Manual by removing plunger after change of product

Material of construction
The contact part are of SS316L grade and the clamps are of SS304. seals are of silicon.

Options
• Sampling bottles and extended stroke length

Working
SMB X-Flow sampling valve provides inline sampling of free flowing and non free flowing materials (granules,powders,flakes, powdered milk and pharmaceutical products in gravity chutes and hoppers. Scoop provided can be pushed inside and can be pulled outside with sample then turned 180 degree using the handle to take the sample in a bottle/ flask
• Valve Size :1", 1.5", 2", 2.5", 3" weld end,weld thickness 2mm.
• Powder Size : 10 micron to 1/4" (6mm) particle size.
• Quantity of Sample : upto 10grams.
• Temperature Range : upto 80 deg cel.
STERI SAMPLE VALVE MODEL KT-02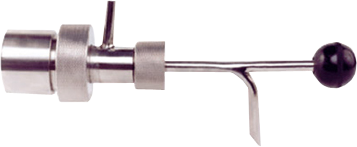 Application
Sampling from tanks and pipeline under sterile conditions for physico-chemical or micro biological Analysis

Construction
Valve Body : Stainless steel AISI 316L (welding parts with material certificate) Sealing : Silicone EPDM in request Product Pressure : Max.4bar (65PSI) as standard 6 bar is available on request.

The valve body is available in following executions
• Type 'F' for direct welding into tanks / flange
• Type 'P' for direct welding into pipe / fermented
• The manually actuated steri sample valve are steam sterilisable and designed to suit hygienic norms

Operation
Sampling should only be made from sterile sample valve.Before opening the valve,closing cap should be placed on sample piece. There after handle is moved on horizontal position until required flow through lowe outlet is obtained. After sampling, handle should be left as it is automatically in this position the handle can not be removed.

Cleaning / Sterilisation
After sampling the valve should be flushed with water or alcohol. Sterilisation is to be done by alcohol or steam. when not in use, the valve may be sealed with alcohol by leaving the clip-onclosing cap on the lower outlet and filling with alcohol. By aseptic sampling the channel is to be rinsed with alcohol. Cleaning in place only with vessel or pipeline cleaning by interval flipping or valve optimal cleaning of valve seat is obtained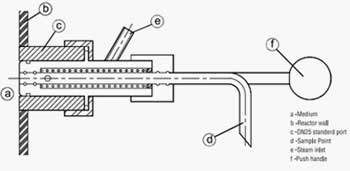 Technical Data

Max operating

:

150 °C

CMax.operating pressure

:

6bar

Material-parts in contact with medium

:

316l

-o-ring

:

EPDM
Details For Ordering

Sapmling valve Dn25

:

20101

with steam diaphragm valve

:

20102

with sterile cartridge

:

20103

with stem diaphragm valve and sterile cartridge

:

20104

Mounting : On tanks and pipe workNormally the valve should be mounted horizon-tally with one outlet in upward position and onein downward. If the valve is mounted in anotherposition if should be seared that complete drain-age can take place from one of the outlets.
| | | |
| --- | --- | --- |
| Benefits | Spare Part List : Part No | Oprating Information (Example) |
| Sterilisable in place with alcohol or steam | 2001 :0'rings | Model :Type P-KT-01 |
| Representative sampling, giving repeatable results | 2002 :SS 316 springs | Application : Fermented broth |
| Safe tosecondary contamination | 2003 :SS316L fixing Nut | Size: DN25 |
| Dual purpose, bulk and micro samples (special version) | 2004 : 25mm DN port nut | Type of mounting Socket |
| Manual and User-Friendly | 2005 8mm OD sampling tune | |
STERILE UNIONS BIOPHARMA APPLICATIONS DN 25.4 to DN 76mm

Features
• Asceptic fittings for Biopharma Industries
• OC SS316L and O Ring Food grade silicon
• Temp Max 180 Deg C, Pressure 10 Bar(g)
• Internal finish 0.4 Ra, Electropolished
• External Finish Mirror Polished / Satin

Part List
• Sterile unions nut
• Sterile unions liner
• Silicon food grade o-ring
• Threaded liner
STERILE UNION SMB-SU-03- GA DRAWING & DIMENSIONS
| | | | | | | | | | |
| --- | --- | --- | --- | --- | --- | --- | --- | --- | --- |
| Sr. No | Model Name | A | B | C | D | E | F | R | T |
| 1 | DN 63.5 | 17 | 27 | 29.4 | 75 | 63.5 | 68 | 1.5 | 2.1 |
| 2 | DN 76 | 20.1 | 33.3 | 30 | 87.4 | 76 | 78 | 1.5 | 2 |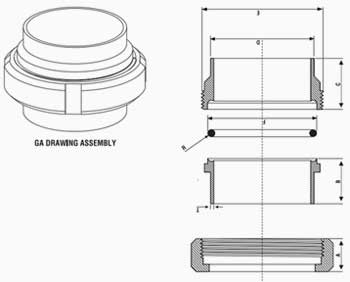 STERILE UNION SMB-SU-01- GA DRAWING & DIMENSIONS
| | | | | | | | | | |
| --- | --- | --- | --- | --- | --- | --- | --- | --- | --- |
| Sr. No | Model Name | A | B | C | D | E | F | G | RT |
| 1 | DN 8 | 12.1 | 27.4 | 28.1 | 8 | 17 | 21.8 | 15 | 1.41.6 |
| 2 | DN 12.7 | 12.1 | 27 | 28 | 12.7 | 17 | 21.8 | 15 | 1.251.6 |
| 3 | DN 19 | 12.6 | 27.3 | 28.5 | 19 | 22 | 29.75 | 23.5 | 1.251.66 |